Hydraulic Hose & Fittings

ParkerStores offer Parker's range of high-quality tube fittings, hose and hose fittings, thermoplastic tubing, brass fittings & valves, quick-disconnect couplings and assembly tools. ParkerStores serve customers in a broad range of markets, including Aerial Lift, Agriculture, Chemical Handling, Construction Machinery, Food & Beverage, Fuel & Gas Delivery, Industrial Machinery, Mining, Mobile, Oil & Gas and Transportation.
Dewtec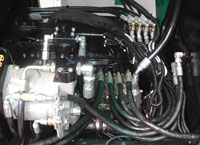 DEWTEC is the ENZED Franchisee for the Manawatu, Horowhenua and Wairarapa regions. We have six mobile Hose Doctors working from service centers in Levin, Palmerston North and Masterton offering a 24 hour service.
If you need a brake down repaired or a new system designed or installed we can help you, with over 25 years experience in the hydraulic hose & fittings market you can be assured you will get expert advice and the best products for the job.
Just Call 0800 DEWTEC (339832) or email sales@dewtec.co.nz
More Info at www.dewtec.co.nz/enzed
---
EHL Group
Premier stockists and repairers for Parker Hydraulic Hose and Fittings through our Parker Store:
Parflex
Polyflex
High Pressure Hose
Water Blaster Hose
Emeto Tube Fittings
A-Lok Stainless Steel Tube Fittings
Ferulok Tube Fittings
Not sure what type of hose or fitting to use, ask us:
PARKER STORE - EHL Phone 06 755 2400 Email office@ehltd.co.nz
---
Hydraulic Wholesalers Ltd.
Hydraulic Wholesalers ParkerStore offer Parker's range of high-quality hose and hose fittings, thermoplastic tubing, and quick-disconnect couplings. We will custom make hoses to suit your requirements in our premises or can arrange on site service through the local Enzed Network. ParkerStores serve customers in a broad range of markets, including Aerial Lift, Agriculture, Chemical Handling, Construction Machinery, Food & Beverage, Forestry, Fuel & Gas Delivery, Industrial Machinery, Mining, Mobile, Oil & Gas and Transportation
---